Saturday, March 2nd, 2024
Southwest University Park
1 Ballpark Plaza
El Paso, Texas 79901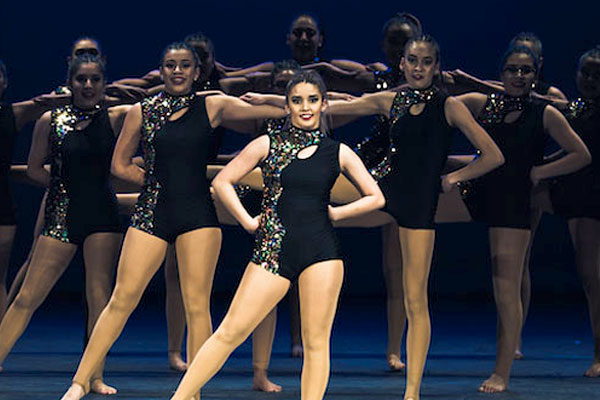 Registration Information
Registration opens September 1st, 2023.
Registration closes February 17th, 2024. (Late Registration Only)
Payment deadline February 24th, 2024.
Event Information
Gates Open at 7:30 AM
Dance Competition Begins at 8:30 AM
Dance Competition Ends at 1:00 PM
Dance Awards Begins at 1:30 PM
Competition Information
Teams will determine age divisions by the grade or age of their OLDEST competitor.
Teams will be required to submit a roster with names, DOB, ages and grades of all their competitors to the registration table the day of the competition. You may download this CSV spreadsheet template to submit your roster details.
Categories
All School & All Star teams can compete in any of the following categories.
Pom
Jazz
Hip Hop
Lyrical/Contemporary
High Kick
Open (Folkorico, Ballroom, Prop, etc.)
Age Divisions
School
Youth/Elementary – 5th grade and younger
Junior High/Middle School – 6th-8th grade
High School – 9th-12th grade
All Star
All Star Youth – 11 years & younger
All Star Junior – 14 years & younger
All Star Senior – 18 years & younger
Exhibition – No Scoring / Performance Only
Awards
1st, 2nd, 3rd Trophies in each category/division
School Grand Champion Award

All Star Grand Champion Award
Event Pricing
| Team (7+ People) | Ensembles | Exhibition |
| --- | --- | --- |
| Team (7+ People $150 / team | Ensemble $150 / ensemble | Exhibition $150 / exhibition |
General Information
Time Limits
Time limit is 2 minutes 30 seconds for all dance entries regardless of category or division
There is no minimum time requirement
If performance exceeds the specified time, there will be a point deduction.
Performance times will be strictly adhered to in order to ensure a smooth running show for all participants. Each performance will be announced by the MC. All participants must be lined up and ready to perform no more than 3 performances before their set and no less than 1. It is very important that all participants be prepared and ready to go when stage runner calls you in order to ensure a pleasurable experience for all.
Overall General Rules
All teams will follow standard competition and safety guidelines as printed on the waiver form.
To ensure the competition runs as efficiently as possible, no teams will be allowed to change their performance order. Additionally, there will be no division changes allowed after the registration deadline. No refunds will be given once a team is registered.
Before the day of competition, all participants must complete the Release and Waiver Form. This MUST be signed by Parent or Legal Guardian in order for the participant to be able to perform. All Participant forms must be given to the Registration Table upon checking into the competition.
Competition Spectators
Friends and families are more than welcome to watch the cheer & dance competition. Tickets will be sold through the Chihuahuas box office and can be purchased before and on the day of competition. Buy tickets today for general admission!
Admission – $15 plus tax
Children under 3 – Free
Registration Checklist
Complete Dance Registration Form
Check division
List number of participants in each specific division
Indicate number of teams and total due
Complete online registration
Registration form should be completed by February 17, 2024. Payment should be completed and/or postmarked by February 24, 2024.
Please, No Personal Checks
Methods of payment: School or business checks, money orders, school purchase orders, or paypal.
Late Fee Policy
It is extremely important we receive your registration and payment before the deadlines. If registration is not complete by February 17, 2024, the prices will increase to:
Team – $200/team
Ensembles – $200/ensemble
Exhibition – $200/exhibition
Refund Policy
A full refund will be made for any registered event up to the designated cancellation deadline. After the designated deadline, there will be no refund and arrangements for full payment will need to be made. If payment is not made by the designated deadline, responsible parties will need to arrange for payment ASAP.
Cancellation Policy
Cancellations of any registered event must be made in writing to Superior Festivals by the designated registration deadline.